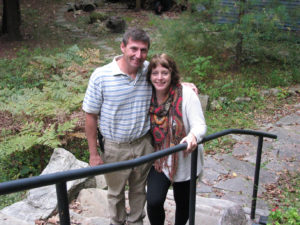 About Us
A family business owned by Shawn and Stacey Church
We have 35+ years of welding experience
15+ years experience as Church's Welding and Fabrication
Certified by the Canadian Welding Bureau and WSIB (Workplace Safety and Insurance Board)
We love seeing our customers happy and enjoying our products.  We especially enjoy seeing seniors having the full and safe use of their properties again.
Shawn and Stacey are actively involved in the community through their various volunteer efforts.
RAILINGS
We specialize in exterior pipe handrails:
Ideal for discriminating customers
Provides secure access to waterfront, parking and garden areas
Customized solutions that are bent and twisted to match the landscape
Not joint welded
No ugly plates or bolts
Thin black profile melts into the background
Minimal maintenance
Best solution for avoiding slips and falls
Steel Foundations
Lifting and leveling cottages
Installation and repairs
Steel deck foundation installation and repairs
Steel Docks
Installation and repairs
Water level repair work

our Testimonials
"Shawn church did all our decks and docks with steel. In 10 years we have had no movement. They are quiet and solid.  He built the steel structure under our short bunkie in an innovative way that was admired by our architect. Shawn's attention to detail and service levels are second to none and we would not hesitate to recommend him."
"Shawn, thanks so much for saving us again!  We are so pleased you were able to fix the railing so fast after our Hemlock landed on it. It looks and feels like new. My father and mother-in-law were so pleased you had it fixed so quickly or they wouldn't have felt comfortable on our steps. You are the best. Thanks again"
Shawn rebuilt the support structure for a large deck and also built a custom 100ft plus handrail.  The handrail was bent to follow an irregular winding staircase.  Excellent work in both cases.