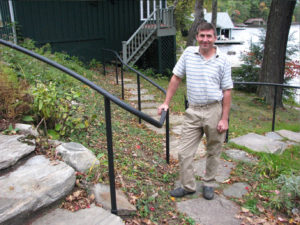 • A family business owned by Shawn Church
• We have 35+ years of welding experience
• 15+ years experience as Church's Welding and Fabrication
• Certified by the Canadian Welding Bureau and WSIB (Workplace Safety and Insurance Board)
• We love seeing our customers happy and enjoying our products. We especially enjoy seeing seniors having the full and safe use of their properties again.
• Shawn is actively involved in the community through his various volunteer efforts.
We specialize in exterior pipe handrails:
Ideal for discriminating customers
Provides secure access to waterfront, parking and garden areas
Customized solutions that are bent and twisted to match the landscape
Not joint welded
No ugly plates or bolts
Thin black profile melts into the background
Minimal maintenance
Best solution for avoiding slips and falls
Lifting and leveling cottages
Installation and repairs
Steel deck foundation installation and repairs
Installation and repairs
Water level repair work


"I just love my new handrails that Sean and his crew installed. I was so afraid of falling and breaking my hip. Now I can go down to the water once again and enjoy this wonderful property that we are so lucky to have."

"At first it seemed kind of expensive but now I realize that we have invested so much in our property and I wasn't getting full enjoyment from it. His wonderful handrails have made all the difference."

" I like the fact that they are so thin and black. They kind of melt into the background. At a distance you can hardly see them."
At vero eos et accusamus et iusto odio dignissimos ducimus qui blanditiis praesentium voluptatum deleniti atque corrupti quos dolores et quas.